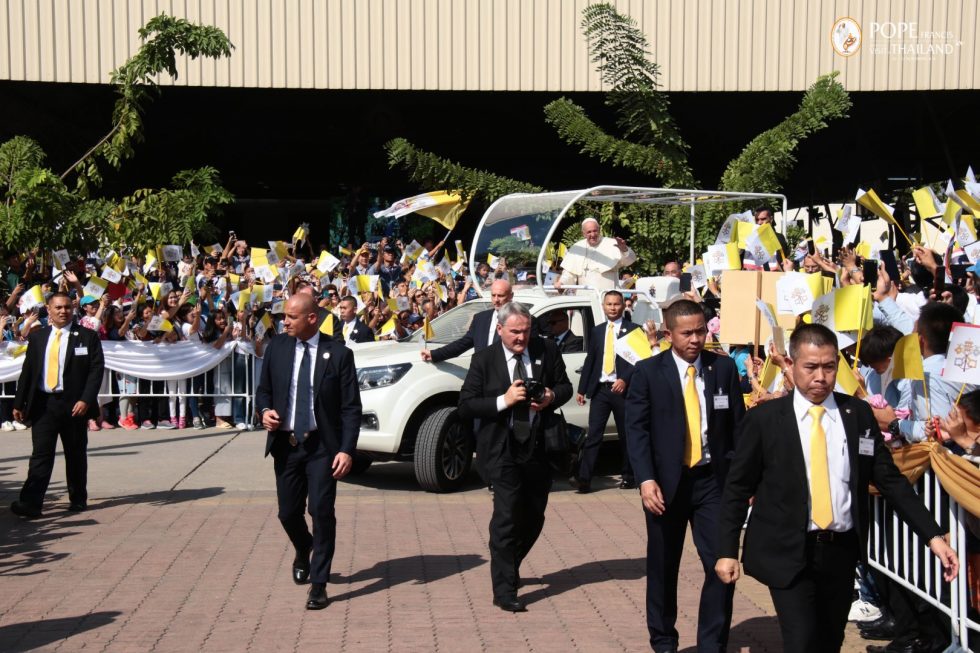 On his second full day of his visit to Thailand, His Holiness Pope Francis, the Supreme Pontiff of the Roman Catholic Church and the sovereign of the Vatican City State, traveled from Bangkok to St. Peter's Parish to meet with priests, religious, monastic monks, seminarians, catechists and Christians.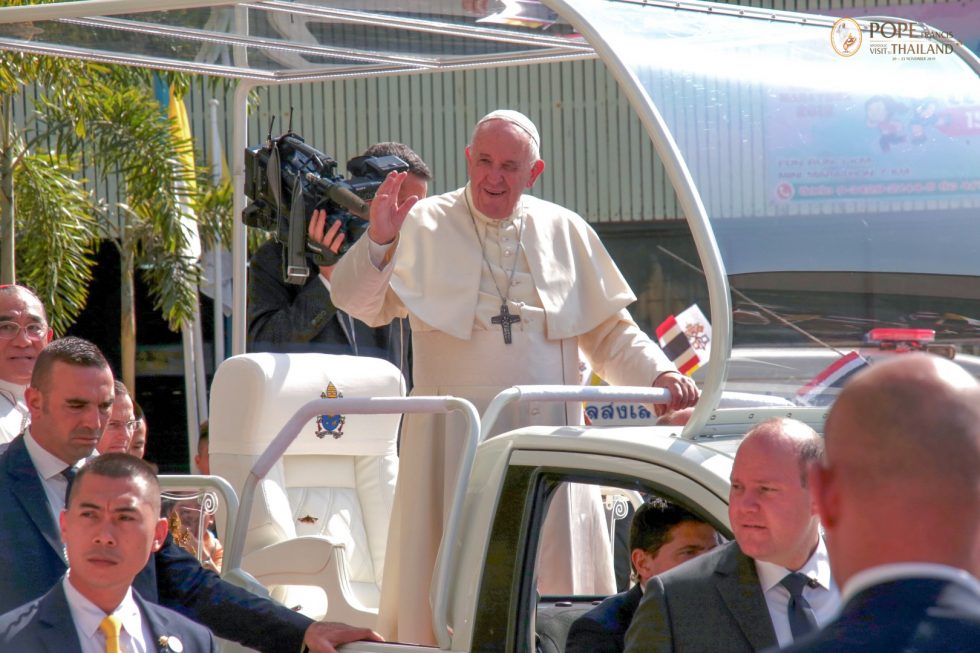 On November 22, 2019 from 5 AM onwards, priests, religious, and Christian community gathered around the parish where most of the population are Roman Catholics. There were also Christians from other areas who came to catch a glimpse of Pope Francis at St. Peter's Parish as well. The parish is located in a 179-year-old Christian community. It has history dating back to the Ratanakosin period when missionaries came to evangelize a Chinese community in what is now known as Nakhon Pathom and Suphanburi province.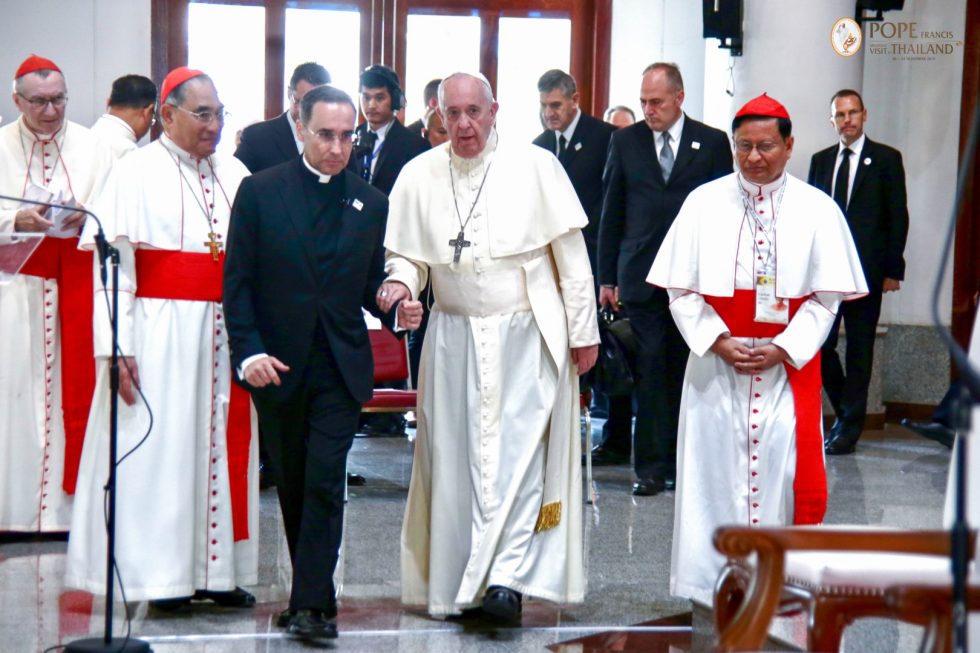 At approximately 10 AM, Pope Francis travelled by car from Apostolic Nunciature Embassy of the Holy See to St. Peter's Parish, Samphran District, Nakhon Pathom province. When his car arrived at the small road that led to the parish, the church bells rang and the marching band played him a welcome performance. On both sides of the road, students from District 5's school of the Archdiocese of Bangkok lined up to welcome him. Once he arrived at the church's gate, the pope boarded his popemobile to give people an opportunity to see him more closely and the popemobile was driven around the church area. Father Ignatius Adisak Somsaengsuang, pastor of St. Peter's Parish awaited to welcome him in front of the church before taking him to the altar. Representatives of priests, religious, seminarians and catechists presented the pope with garland and he went to pay respect to the image of St. Peter the Apostle who was the first pope and the patron of the church.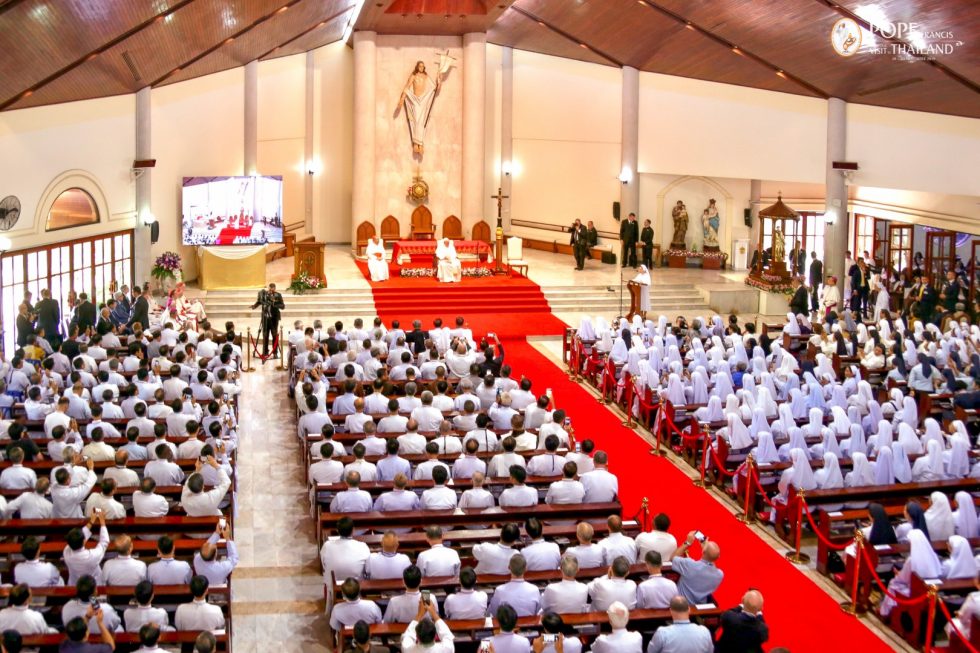 Then, he went in front of the tabernacle where Eucharist is preserved and blessed it to the body of Christ before silently pray. Once seated, Bishop Joseph Prathan Sridarunsil, President of the Catholic Committee for priests and consecrated persons, made an address to Pope Francis where he talked about how grateful they are to have him visit. Once finished, Pope Francis gave a hug to Bishop Sridarunsil and talked leisurely with him. Together, the assembly sang "Hon tang hanf kwam rak"; followed by Bernadetta Chonrak Donnoran, who is currently a postulant of the Xaverian Missionary Society of Mary, as a religious representative sharing about being a witness of faith. Pope Francis then gave a souvenir and spoke to Bernadetta before addressing the assembly. Then, together everyone prayed for vocation so that God would call on more people to become priests and religious to support evangelization efforts.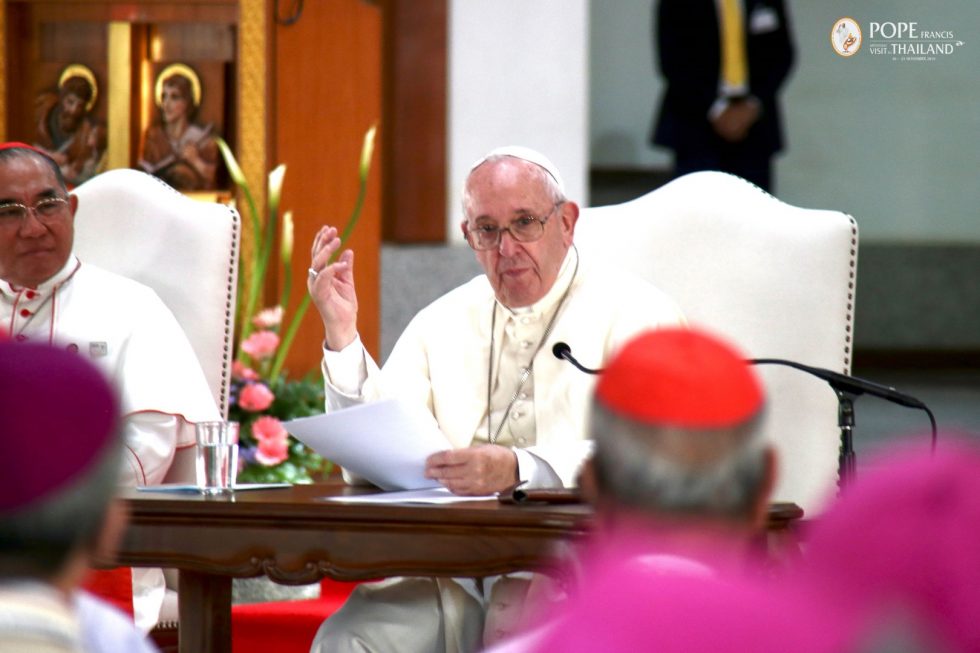 Then, Pope Francis gave an apostle blessing to the assembly and gave a monstrance to President of the Catholic Bishops' Conference of Thailand Cardinal Francis Xavier Kriengsak Kovithavanij who represented the assembly. Then, everyone sang "Hon Tang Phra Christ" and left for Blessed Nicolas Bunkerd Kitbamrung Shrine.