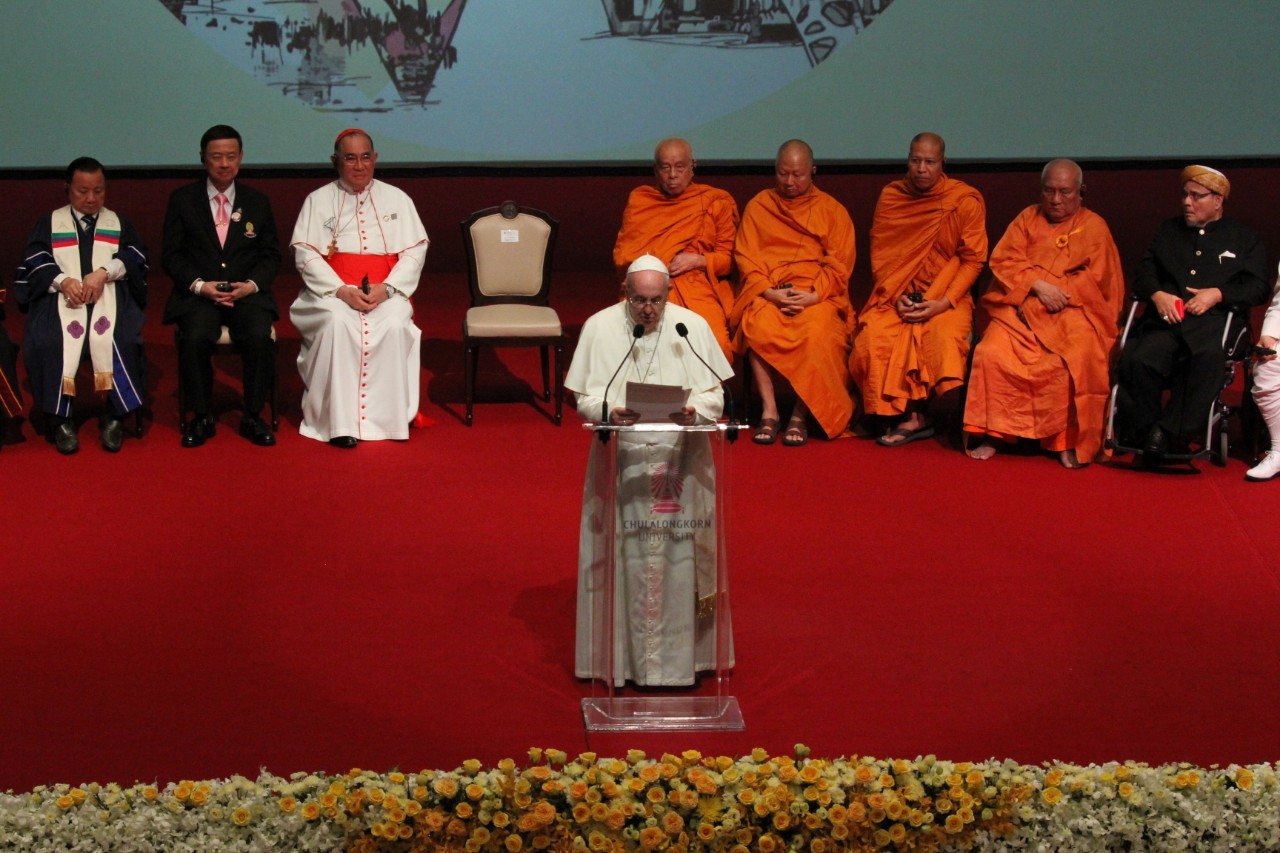 To live in harmony in this world, love and understanding — especially within religion — are the crucial missions of Pope Francis; as is the need to have interreligious dialogue to create understanding and cooperation towards world peace. Pope Francis also brought a message of love and peace to the faculties and students whom are the hope of the world through his invitation for them to build a bridge of love and understanding.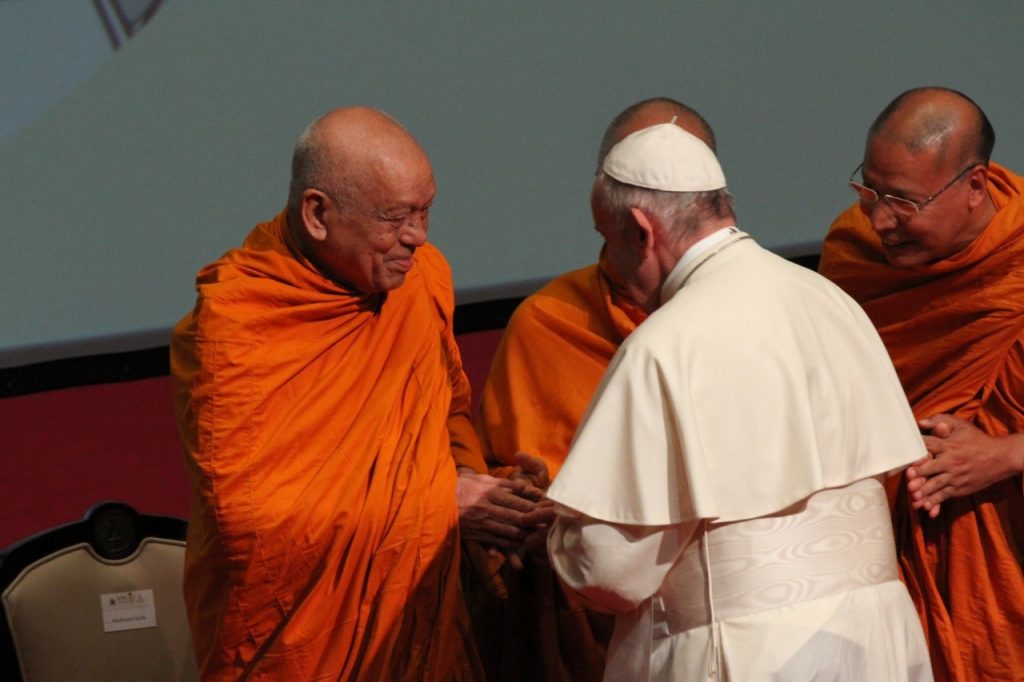 At approximately 15.15 local time, Pope Francis arrived by car at Chulalongkorn University; while on both sides of the road students waved Thai and Vatican flags. Cardinal Francis-Xavier Kriengsak Kovithavanij, Archbishop of the Archdiocese of Bangkok, Rector of Chulalongkorn University Honorary Professor Pirom Kamolratanakul, Chancellor of Chulalongkorn University Professor Budhit Eua-arporn, and President of the Episcopal Commission on dialogue between religions and Christians relation under Catholic Bishops' Conference of Thailand Bishop Joseph Chusak Sirisut, Bishop of Nakorn Ratchasima Diocese welcoming him. Pope Francis received welcome garland from the student-body representative before he headed inside Chulalongkorn Assembly Hall.
    Pope Francis ascended the stage and shook hands with Chaophrakhun Somdejphrawannarat Phraphrom Bandit and religious leaders in Thailand such as Phramaha Ratchakras Pitisrivisutkhun (Chawin Rangsiphramnakhun), Mr. Achis Pitakkumpol Chulalongkorn, and leaders of other Christian denominations in Thailand well as the management of Chulalongkorn University before he was seated at his chair. Professor Chancellor Dr. Bundhit Eua-arporn read a statement saying how happy they are that Pope Francis visited Chulalongkorn University which is the first university established in Thailand. It was founded by King Chulachomklaochaoyuhua and later, King Monkutklaochaoyuhua elevated it to a university. The university has since developed to cultivate wisdom not only among staff and students but also Thai society. Then, the university rector presented souvenirs from Chulalongkorn University to the pope.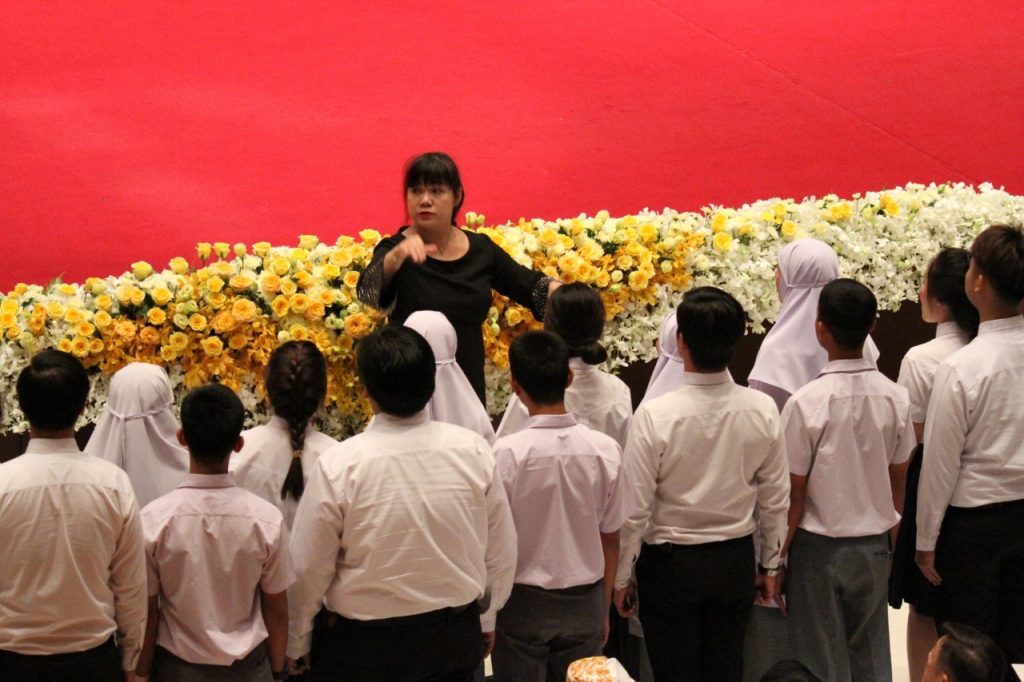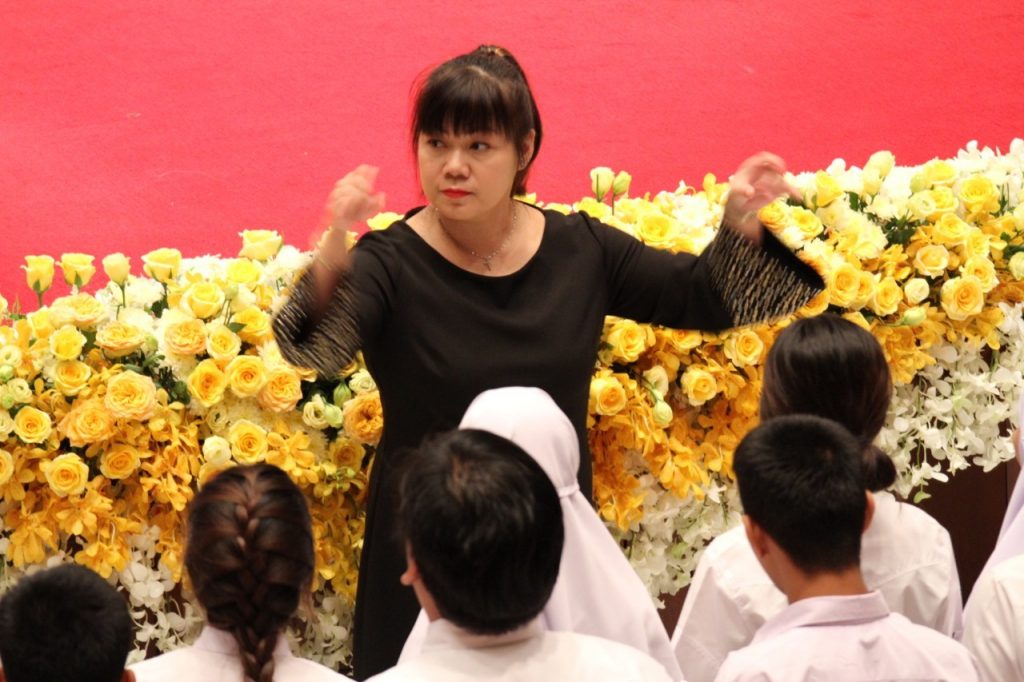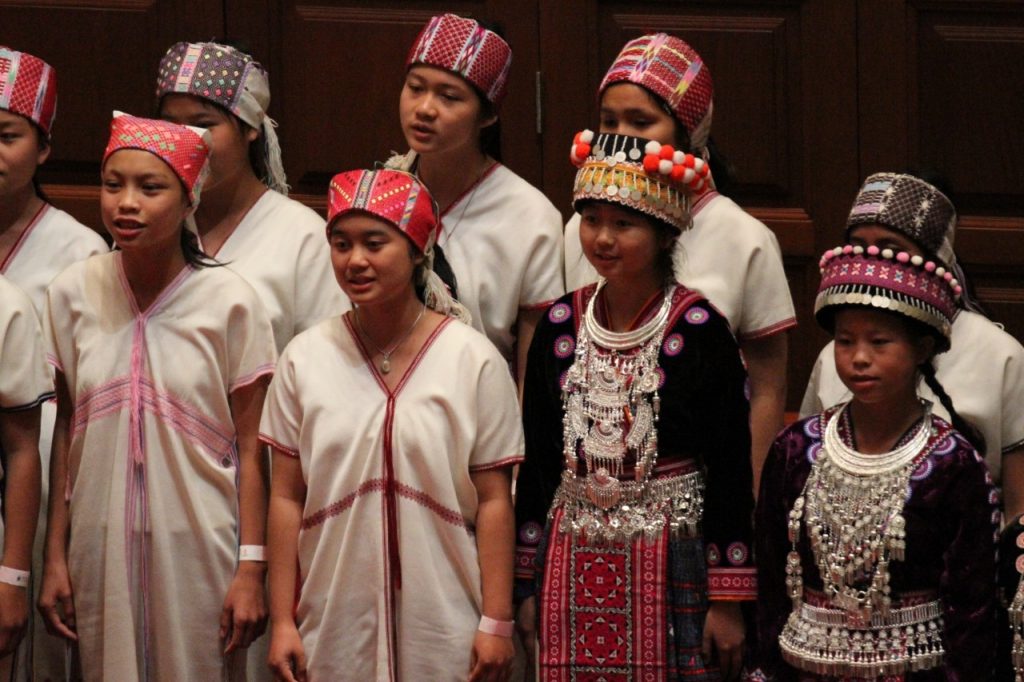 Once finished, Bishop Joseph Chusak Sirisut stated that they are happy that Pope Francis has visited Thailand and he was grateful that he had allowed Christians of any denomination as well as interreligious leaders, faculty staff and students to join the audience with him. Then, the choir, comprised of Chulalongkorn University Choir, Al-Aman Chorus (Attarkiah Islamiah Institute, Narathiwat province) and Moo hkoh hpau (St. Joseph School, Mae Chaem, Chiang Mai province) performed "Peace Prayer" which was conducted by Dr. Pawasut Piriyapongrat.
          Pope Francis, then, addressed the assembly on the topic of "Building bridges for peace and understanding." After his address, the choir sang "Song of Freedom." Pope Francis took an official image for the occasion of his visit to Chulalongkorn University before leaving for Assumption Cathedral.