Pope Francis paid a visit to the Supreme Buddhist Patriarch at Wat Ratchabophit Maha Siraram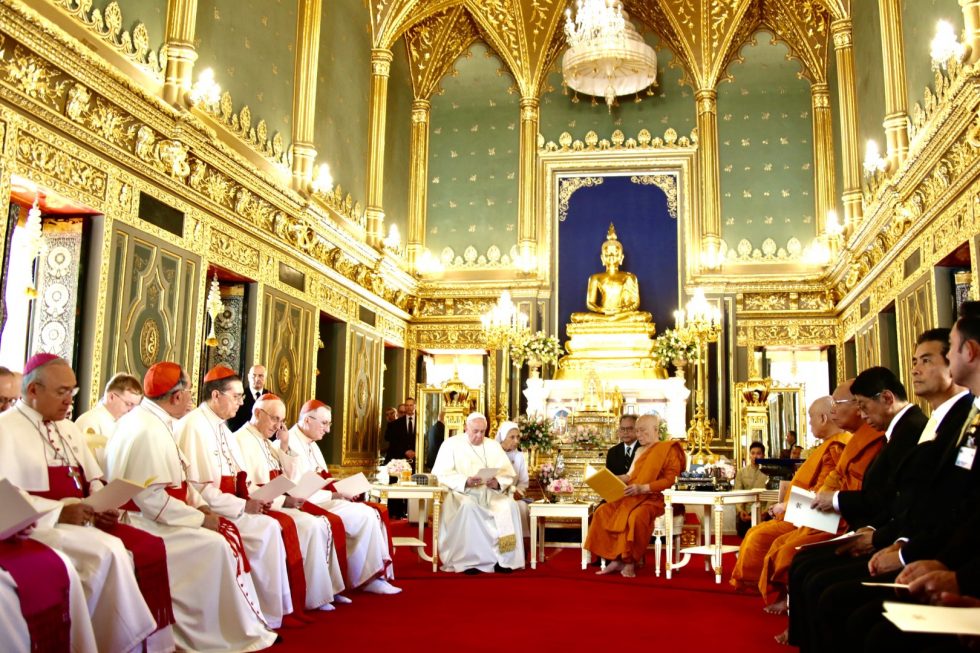 On Nov. 21, 2019, at 10.00 local time, Pope Francis, the Supreme Pontiff of the Roman Catholic Church and the Sovereign of the Vatican City State, paid a visit to the Supreme Buddhist Patriarch on the occasion of his official visit to the Kingdom of Thailand similar to what Pope John Paul II did when he came 35 years ago.
Pope Francis travelled from the Government House to Wat Ratchabophit. Once arrived, he was received by the Secretary of the Patriarch, Mr. Ittipol Khunpleum, Minister of Culture, and honorary minister for His Holiness Pope Francis. Also, there were Director General of the Department of Religious Affairs Mr. Kittipan Pansuwan, Deputy Director acting as Director of the National Office of Buddhism Mr. Narong Songarom, and civil servants. Then, he entered the temple where the Supreme Buddhist Patriarch His Holiness Somdejphra Ariyawongsagatayana awaited with Venerable Somdej Phra Wannarat, Venerable Somdej Phra Mahathirachan, and Venerable Somjej Phra Mahawirawong. The Supreme Buddhist Patriarch gave an address to Pope Francis who returned the address.
His Holiness Somdejphra Ariyawongsagatayana then gave a souvenir coin in a silver frame and English books on Buddhism to Pope Francis. In return, Pope Francis also gave a souvenir to him. In return, Pope Francis presented His Holiness Somdejphra Ariyawongsagatayana with lined pattern tile of St. Peter's Basilica decorated with the pope's coat of arms as a souvenir on the occasion of his visit to Wat Ratchabophit Siraram before discussing at their his own discretion.
Pope Francis is the 2nd pontiff to pay a visit at Wat Ratchabophit Maha Siraram. Pope St. John Paul II came to pay his respect to His Holiness Somdet Phra Sangharaja Chao Kromaluang Jinavajiralongkorn in 1984 as a return visit as His Holiness Somdejphra Ariyawongsagatayana visited Pope St. Paolo VI at the Vatican City State in 1976. In March 2019, Pope Francis also extended the invitation to the Supreme Buddhist Patriarch to join a summit of international religious leaders and to plan for sustainable development projects with the United Nations spearheaded by the Decastery for promoting integral human development which the Supreme Buddhist Patriarch had graciously sent Somdej Phra Sakol Maha Sangka Parinayok to be his representative. Thus, on the occasion of His Holiness Pope Francis officially visiting Thailand, he paid a visit to Wat Ratchabophit Maha Siraram to continue the friendship and interreligious dialogue between Buddhists and Catholics in order to work together toward morality, ethics, and world peace.
Later, Pope Francis signed a guest book on the occasion of his visit to the temple and took an official photo with the Supreme Buddhist Patriarch Somdej Phra Sakol Maha Sangka Parinayok. Then, Pope Francis took leave and continued on to St. Louis Hospital.