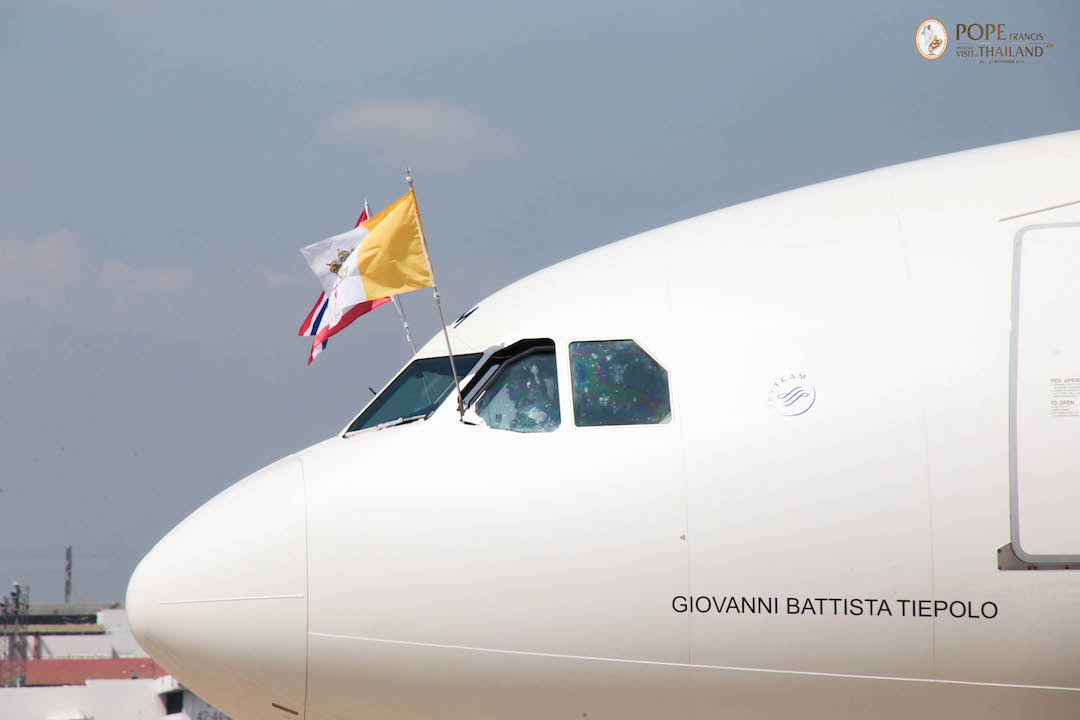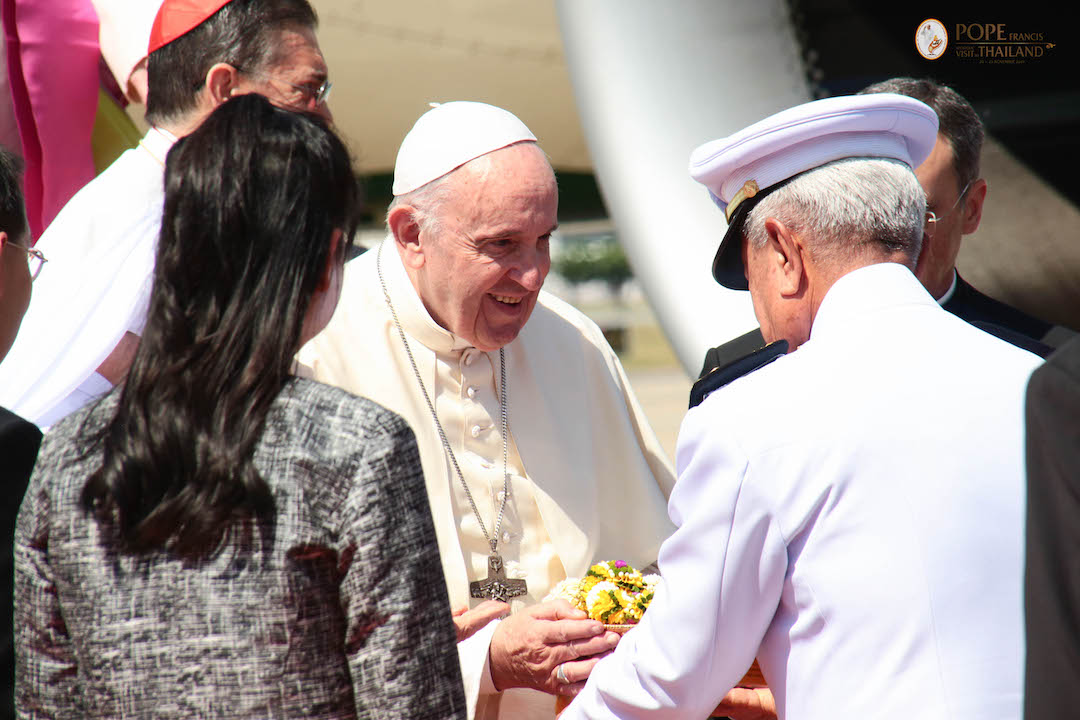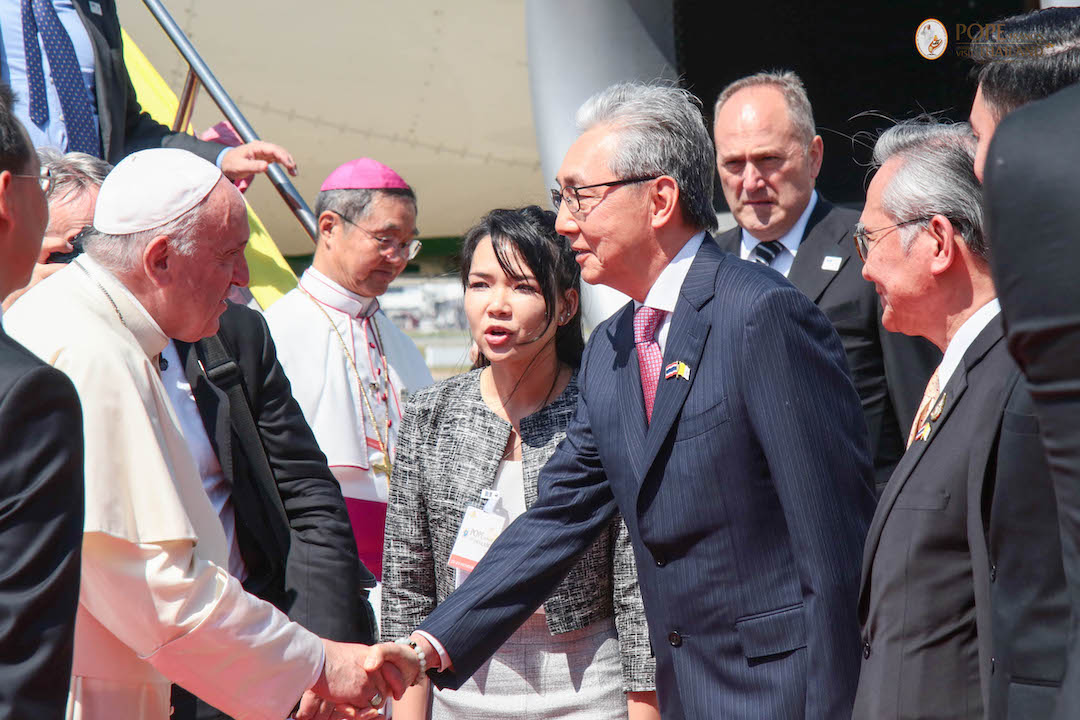 The Journey Begins – Pope Francis has arrived in the Kingdom of Thailand
Pope Francis' plane arrived at Bangkok's Don Mueang airport Military Air Terminal 2 where he will be met by representative of His Majesty King Maha Vajiralongkorn, the Royal Thai Government, the Catholic Bishops' Conference of Thailand at 12.30 pm local time on Nov. 20, 2019.
Greeting Pope Francis on arrival on the plane were Apostolic Nuncio Archbishop Paul Tsang In-Nam and Director-General of Department of Protocol of the Ministry of Foreign Affairs, Royal Thai Government, Mr. Nadhavathna Krishnamra. Pope Francis then stepped off the plane with his officials including Secretary-General of the Holy See Cardinal Pietro Parolin, Prefect of the Congregation for the Evangelization of Peoples Cardinal Fernando Filoni, and President of the Pontifical Council for Interreligious Dialogue Cardinal Miguel Ayuso Guixot.
There, His Majesty King Maha Vijiralongkorn graciously assigned the acting President of the Privy Council, General Surayud Chulanont, to represent him in welcoming His Holiness with a garland. Next to him were Deputy Prime Minister Somkid Jatusripitak, Foreign Minister Mr. Don Pramudwinai, Minister of Culture and Honorary Minister for His Holiness Pope Francis Mr. Ittipol Khunpleum, Ambassador to the Holy See Mr. Chari Srichawana, and Honor Guard for His Holiness Pope Francis Radm. Sombat Naraviroj as well as representative of the Air Force
Pope Francis greeted representatives from the Royal Thai Government as well as  religious leaders — President of Catholic Bishops' Conference of Thailand Cardinal Francis-Xavier Kriengsak Kovithavanij, Apostolic Nuncio to Thailand Paul Tsang In-Nam, church coordinator Monsignor Andrew Vissanu Thanya-anan, Secretary of the Apostolic Nunciature Embassy of the Holy See to Thailand Father Dario Pavisa and Secretary of the Apostolic Nunciature Embassy of the Holy See to Thailand Father Wilker Ray Maldonado Rodriguez as well as bishops from 10 dioceses in Thailand. There were also his cousin Sister Ana Rosa Silvori and 11 representatives of young people in national costumes there to greet him. Pope Francis walked pass the honor guards as 21 canon salutes were fired.
Officers accompanied Pope Francis to board vehicles as Acting President of the Privy Council General Surayud Chulanont and Deputy Prime Minister Somkid Jatusripitak saw the pope off while around 100 Catholics waved flags to welcome him to Thailand from inside the airport terminal.
Pope Francis' motorcade then drove to the Apostolic Nunciature Embassy of the Holy See to Thailand where embassy staff await to welcome him. There, he will preside over a private Mass.
Ahead of his visit, Pope Francis sent a message to Thailand saying how delighted he was in visiting Thailand, the land of many ethnicities, cultures and traditions. Importantly, he said, everyone works hard to coexist in harmony – not only in Thailand but in Southeast Asia. In his message, the pope also hoped that from his visit, all sectors would become aware of the importance of inter-religious dialogue and how communities can work in harmony together as brothers and sisters; especially to help the poor and those who suffer as well as working toward peace. Lastly, he gave a blessing to Thailand and its people and also asked everyone to pray for him.
As part of the official schedule of his visit, the Pope Francis will go to the Government House to meet with Prime Minister, ministers, civil servants, ambassadors on Nov. 21, 2019. Then, he will visit the Supreme Buddhist Patriarch at Wat Ratchabophit Sathit Maha Simaram Temple before meeting with medical staff and paying a private visit to infirmed and disabled people at St. Louis Hospital.
In the late afternoon, Pope Francis will privately visit His Majesty the King Maha Vajiralongkorn before presiding over Holy Mass for the faithful on the occasion of his apostolic visit to the Kingdom of Thailand at Supachalasai National Stadium.
On Nov. 22, Pope Francis will hold meeting with priests, religious, seminarians and catechists at St. Peter's Parish before paying a visit to the Blessed Nicholas Bunkerd Kritbamrung Shrine in Samphran, Nakorn Pathom province.
Later, he will meet with the Catholic Bishops' Conference of Thailand and the Federation of Asian Bishops Conference. Before leaving, he will meet with the Thai Jesuits. Then, he will meet with leaders of other Christian denominations and other religions as well as faculties and students at Chulalongkorn University. He will also preside over a Holy Mass for young people at Assumption Cathedral.
He will then travel onward to Japan on Nov. 23.
Pope Francis' apostolic journey to Thailand and Japan on Nov. 20-26, 2019 is his 4th visit to Asia. He travelled to South Korea during August 2014, Sri Lanka and the Philippines in January 2015, Myanmar and Bangladesh on Nov. 26 – Dec. 2, 2017.
This is his 32nd time that he has travelled outside of Italy.
Pope Francis is the 2nd Supreme Pontiff of the Roman Catholic Church to visit the Kingdom of Thailand following his predecessor Pope St. John Paul II (whom Pope Francis canonized to sainthood on April 27, 2016 at St. Peter's Basilica, Rome) who visited Thailand on May 10-11, 1984 or 35 years ago.